This page contains many photos. Dialup users, Please be patient with the "slow loading".
Whitehurst Fields a Team
Contributors: Pictures taken by J.L. Miller and provided by Todd Hixson, son of team member Bill Hixson
Story: Bill Hixson, Bill Evelo, Jimmie L. Miller, and Ken Baroa, as told to Max Crow
Pearl Harbor, 1957, MM2 Jimmie L. Miller had charge of the Whitehurst Athletic Locker and of the acquisition of equipment. Being an avid baseball player he took the initiative to form a team and acquire all the necessary gear including uniforms. Jimmie played short stop as well as managing the team. His wife, Gerry, was the team scorekeeper.
Their opponents were teams from the military bases in both Pearl and Guam, ships passing thru Pearl Harbor, and even the Oahu Prison Camp, where these pictures were taken. The Whitehurst team was very popular there and always drew the biggest crowd of prisoners to watch the game. Although the prisoners fielded a formidable team, they too were beaten. The 634 players seldom lost, beating the Air Force, the Prison team, and even the team from a large carrier which had a crew of thousands from which to select ball players.
After beating the team of every Navy ship in Apra Harbor, Guam, the Whitehurst went on patrol. When the ship stopped at Kapingamarangi in the Carolines, an island of only 50 square kilometers, some natives came aboard trying to get up a ball game. They could not communicate in English so Jimmie at first thought they wanted to play softball. But the natives made him understand they meant real baseball. What was expected to be an easy game turned into a shutout with the Whitehurst team on the short side.
Kenneth Whitehurst, though not in the uniformed group, played with the team at various times, and was in the game that fateful day. The native pitcher struck out Big Ken twice. Jimmie Miller, who was good enough to play in semi-pro leagues, hit the ball mightily, but it struck a palm tree, bounced into the field of play, and he was called out. Ken "AK" Baroa who also participated in this game, thinks the loss was due to a combination of over confidence and the native "Tupa Juice", which several team mates were imbibing. Whatever the reason there was "no joy in Boston"* that night, and to add salt to the wound, they found, upon arrival in Guam, that the local newspaper, "The Marianas Mariner" had published the story of their defeat by the team from tiny Kapingamarangi.
*From the poem Casey at Bat by Phineas Thayer
The Whitehurst Baseball Team 1957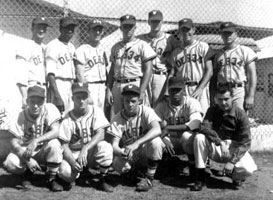 Standing left to right:
1. Bill Hixson, 2nd base 2. Johnny Mac Brown, catcher 3. Brame, 1st Base
4. Leroy R. Mohr, Outfield 5. Sam Holmgren, Right Field 6. Bill Evelo, Pitcher
7. Jerry Biotos, Pitcher
Kneeling left to right:
1. Milton Hughes, Third Base 2. Jimmie L. Miller short stop/mgr
3. Boyd Tarver, Outfield 4 Joe Woodard, outfield 5. Kidder, Infield & Outfield