Logo by: Pat Stephens, Webmaster, DESA



The Whitehurst Club and other Stories from the 1950s
Pusan, Korea 1951
LTJG. Bill Lambdin, who was recalled to duty in 1950 and went aboard shortly after the recommissioning, September 1, 1950. He served as Assistant Gunnery Officer and later as ASW Officer.
When the Whitehurst arrived in Pusan, Korea, in early 1951 there were no clubs; Officer's, Petty Officer's or otherwise. Using whatever resources they could get their hands on, the men built their own private lounge. According to Quartermaster Al Crawford, who was there, the material used was Philippine Mahogany. Al didn't say how this expensive lumber was obtained.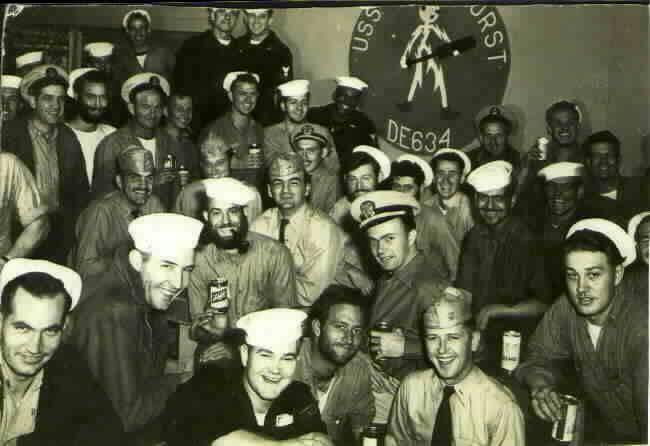 Photo taken inside the club. Man in front wearing a tie is Bill Lambdin.. note the Whitehurst Logo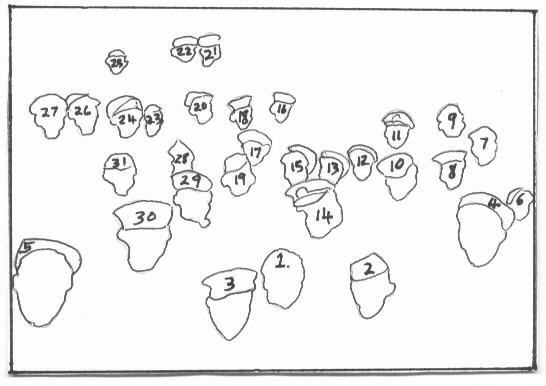 1.SO3 Richard McCranie 2.Ens. Bill Lambdin 3.Donald Lindgren 4.GM3 Wayne Aden 10.RDSN John Rockhold 11.MMC David Graham jr 13. A. Antonelli jr RM3 14.Lt James Alsover Ops 15. QM2 Harold Osgood 16.Archie Oliphant SDC3 17.Ens Dick Johnson Asst Eng 19.Ens Lynch 22.B.B. Williams 21.BMG2 Stephen Turkley jr 23.FN William Kaiser 24.BMC John McMahon 26.SN George Smith 27.EMPC Raymond Martel 28.Ltjg John Soltes Eng 29.GMM3 Miller Roberts 30."Doc" Robert Brown HM3 31.Ltjg. Cletus Gilman.

If you can identify others, send name and number and any error corrections to my e-mail address link below.

The following poem and picture contributed by:
Ann Gillman, youngest daughter of Ltjg Cletus Gillman. (Deceased, 8-25-94)
The poem was written New Year's Day 1951, by Lt Gillman and Ens. Harlan,
and entered in the ships log of that date.
United States Ship Whitehurst (DE634)
Date Monday 1 January 1951
note: It is U.S. Navy tradition to enter the first log entry of the new year in verse. max crow
00 to 04
The watch is set on this rusty old barge.
It's the first of January and the rats are at large.
Moored starboard side to the number 5 pier,
While the crew all dream of girls, liberty, and beer.
At berth fourteen, well secured to the dock,
With six inch manila run through the chock.
Located in an area not known to be new
At Pearl Harbor Naval Base on Island Oahu.
SOPA the boss, who should not be in bed
Commander in Chief, Pacific Fleet, it is said.
Throught the ship it is condition Baker,
And boiler number one is the old steam maker.
We are recieving fresh water from the shore.
Our evaps are not working for us anymore.
Mighty warships of the Pacific Fleet are here,
Yard and district craft, so we have nothing to fear.
The ship has welcomed the glad new year
Without much noise and even less cheer.
The Captain and Exec are in bed snoozing
But McClintock and Alsover are still out boozing.
The whole crew is aboard, they are silent and glum.
Their pockets are empty, payday hasn't come.
The Chief Engineer returned before two.
Without his boilers, he didn't know what to do.
He said he was sober as he grinned into space,
Then took a step forward and fell on his face.
Zero-two-twelve, flying saucers in the west,
The Damage Control Officer will know what is best.
Chemical alarm or repair number two,
The men he has trained won't know what to do.
Send a man up the mast armed with an OBA
To watch for the little men who are here to stay.
The paymaster came aboard at zero-two--thirty.
His eyes were bloodshot and clothes were all dirty.
Asked where he'd been and what he had done,
He replied, "I don't know, but I must have had fun.
C.J. Gillman....................................D. Harlan
LTJG USNR.........................................Ens. USNR
004-08 Moored as before.


On Waikiki Beach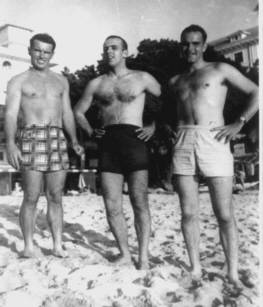 LTJG. Bill Watson, Ens. Dave Harlan, LTJG. Cletus Gillman


The Hand Grenade Incident
As Told by Mahlon "Swede" Allgren GM2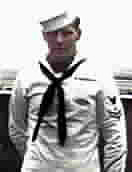 GM2 Allgren ca 1953
"We were training sonarmen out of Pearl Harbor. Non Fragmenting hand grenades, each with a package of dye taped on, were tossed over the fantail to simulate a depth charge attack. At the occurence of an explosion, a large compressed air bubble was released from the submarine's torpedo tube. The success of the attack was indicated by the distance of this bubble from the dye marker."
" Everything was going good. Then the ASW Officer came back to the fantail. He requested that I throw the grenades into the air so they would explode about the time they hit the water.
All was well until the helmsman put the rudder over for a hard turn and the ship rolled to starboard. I just tossed one which hit the jack staff, bounced back on deck, and rolled under a 20mm ammo box. I hollered, 'grenade on deck', and went after it. I scooped it from beneath the ammo box, and kicked it off the fantail. It exploded just as it hit the water, very close to the ship. Then the Captain called for the Gunnery Officer, Moebus GM2, and Mlynek GM1, to report to the fantail. He chewed me out about losing my arm or worse. I didn't want it to go off under the ammo box for fear of setting off the 20mm rounds. The Captain thought I was playing games until I told him that the ASW officer told me to throw the grenades high. I think the ASW officer got 2 weeks restriction.".......

(Swede was GM3 at the time of the incident and he took a lot of undeserved kidding because of it. Some of his good gunners mate buddies even wrote a parody to the song "I'm Movin' On" and sang about it for a few days....
The ASW Officer may use equal space here if he wishes to tell the story as he remembers it......
max crow)

Mahlon "Swede" Allgren, November 1999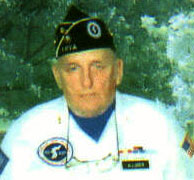 WWII Era | Korea War & '50s | Viet Nam & 60s | Reunions | All Links Page | Search & Rescue
Memorial | Poetry | Enemy Below | Taps List | Photos/Armament | History | Crews Index | Home