USS Whitehurst Logo by: Pat Stephens, Webmaster, DESA

Did You Know?
USS Whitehurst DE-634, was One of the First Ships Through the Inland Passage!
By: Ken "AK" Baroa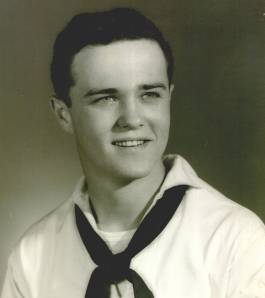 Ken Baroa RDSN, 1955
Ken boarded the Whitehurst in mid 1955 as RDSN (Radarman Seaman) and left the ship in 1958 as Radarman Second Class. Now retired in Fremont, CA, he is a performing musician who plays Tenor Sax and Clarinet in big bands and leads his own quartet. mc 2000
The Inside Passage
Thousands of years ago mountains, on the west coast of what is now Canada, sank into the ocean leaving their tops protruding as islands. A coastal trough formed a water way protected from Pacific storms.

The Seymour Narrows
passage, 100 miles north of Vancouver, was restricted by shallow, "Ripple Rock" in the channel. In 1958 teams of divers, from the U.S.A. and Canada, planted explosives in the rock. In the largest non-atomic explosion ever seen, they blasted the dam rock out of the passage.
Seymour Narrows was in fact two narrow channels, separated by a giant rock (called "Ripple Rock") which was just under water. Over the years since 1875, over 120 ships have been damaged or lost around Ripple Rock, and more than 114 lives have been lost. In 1958, the Canadian government blew up Ripple Rock, but not without some effort. A shaft was first sunk on the mainland side down 570 feet, and then a horizontal 2,400 feet tunnel was carved out under the channel, followed by vertical shaft rising 300 feet through the middle of Ripple Rock. When the explosives were detonated inside the vertical shaft, it created the greatest non-nuclear explosion in history (and was even shown live on TV across Canada and the U.S.). Paragraph from "Sea Letter Cruise Magazine"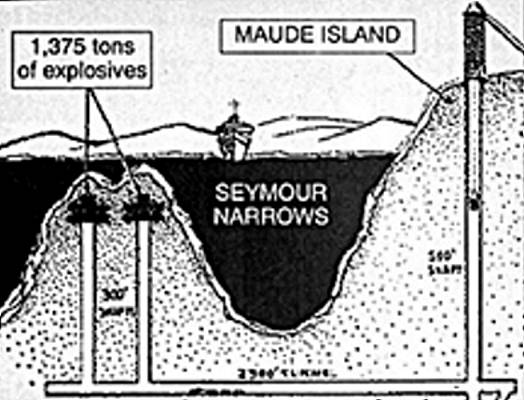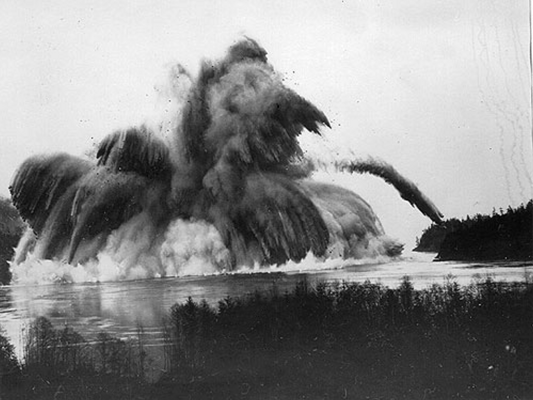 The Ripple Rock Explosion
The water depth where Ripple Rock had been went from 9' to 47'.

The next day, Whitehurst and several other ships entered the improved channel and steamed all the way to Ketchikan, Alaska, thus inaugurating a major segment of the Alaska Marine Highway System which was completed in 1963.

Today this Inside Passage is known by various names which include " Inland Passage", "The Sea to Sky Highway" and "The Alaska Marine Highway.

WWII Era | Korea War & '50s | Viet Nam & 60s | Reunions | All Links Page | Search & Rescue
Memorial | Poetry | Enemy Below | Taps List | Photos/Armament | History | Crews Index | Home