Reactivated in the summer of 1950 as a result of the outbreak of war in Korea, Whitehurst was Recommissioned on 1 September 1950 and soon sailed for the Far East under command of Lt. Cmdr. Malcom G. Evans. The floating power station supplied electricity at both Pusan and Mock Po and earned three battle stars for her activities during the Korean War between 25 February and 25 September 1951.

The ship returned to the USA and entered the Mare Island Naval Shipyard at Vallejo, California in late 1951. Early in the overhaul period, Lt. Cmdr. Marvin D. Jones assumed command. While at Mare Island she underwent extensive overhaul and refit. The single 20mm machine guns were exchanged for twin 20mm mounts and the range finder was removed. When her refit was complete, Whitehurst operated out of San Diego for several months before shifting to her new home port, Pearl Harbor, Hawaii, in late 1952.

For approximately a year the DE stayed very busy with Antisubmarine Warfare exercises.
During this time the ship's voice call, "Defy Z", or Defy Zebra, and the radio and flag hoist call sign, NTVD, Nan Tare Victor Dog, was burned
into the permanent memory of her officers and communications people.

In 1953, Whitehurst began operations between
Hawaii and Guam, assuming surveillance duties among the islands and atolls assigned the Trust Territories for the Pacific Islands (TTPI). During this period, she performed search and rescue missions in the Marianas and Carolines, periodically stopping at various islands to provide medical care for the natives and to record population changes.

Departing Guam on 22 February 1954, for Yokosuka, Japan, the ship sailed via the northern Marianas, the Volcano Islands, and the Bonins. She spent two weeks in Japanese waters before returning to Apra Harbor, Guam on 17 March and later to Pearl Harbor. At about this time the 20mm machine guns (inadequate defense against modern aircraft) were removed.

While in Pearl Harbor Lt.Cmdr. William "Bill" Easton assumed command and he too took the ship to Guam for more TTPI surveillance, returning to PH in early 1955. In 1956 Whitehurst was again cruising the TTPI, now with Lt. Cmdr. Walter Smith in command. In April of 1956, she stood by a damaged seaplane at Lamotrek for two weeks before returning to Guam en route back to Pearl Harbor.

After a period of local operations out of PH, the DE headed back to the Far East and touched at Guam, Brisbane, Formosa, Hong Kong, and Sasebo, Japan before representing the U.S. Navy at the graduation ceremonies of the Republic of Korea Naval Academy on 10 Aptil. She returned to Sasebo before shifting to Yokosuka en route to Midway and Hawaii. Arriving at Pearl Harbor on 30 April 1957, Whitehurst underwent four weeks of upkeep and repairs before beginning six weeks of duty with 20th Century Fox during the filming of the WWII action movie, "The Enemy Below", in which she portrayed the Destroyer Escort, USS Haynes.

Upon completion of the movie, Whitehurst operated off Oahu until late in September, when she was ordered to Seattle, Washington, for duty as training ship with the 13th Naval District. The veteran DE trained reservists on weekend drill cruises and, during this time, made one extended cruise to Guaymas, Mexico, in November 1957. After being overhauled at Seattle from February to April 1958, Whitehurst returned to active training duties, becoming a Group II ASW reserve ship in July. On 6 December 1958, Whitehurst was decommissioned and placed in an "in service" status as a unit of the Select Reserve ASW Force.

Thereafter, into the 1960s, Whitehurst cruised one weekend per month and made one two-week cruise per year. During the fiscal year 1961, the DE placed second in the national competition and battle efficiency among the west coast Group II Naval Reserve destroyer escorts.

Commissioned on 2 October 1961 for duty with the Pacific Fleet, Lt. Cmdr. Donald L. MacLane, USNR, in command, Whitehurst operated actively with the fleet after being "called to colors" as a result of the Berlin crisis that autumn. The DE departed Seattle on the 4th, bound for her new home port of Pearl Harbor, Hawaii. After a period of training in the Hawaiian area, Whitehurst departed Pearl Harbor on 10 Frbruary 1962 for a deployment to the Western Pacific (WestPac). During this deployment she operated with the 7th Fleet out of Subic Bay, Philippines, and made a good will visit to Sapporo*, Japan. The ship also operated in the South China Sea and the Gulf of Siam. (*A December 2002 note from Gary R. DuPen, SOG3 at this time, points out that this good will visit was actually to the City of Kobe which was the designated "Sister City" of Seattle. As evidence, he refers to the book, Destroyers- 60 Years, which contains pictures of Whitehurst personnel with students of Kobe High School and with the Mayor of Kobe. mc)

Returning to the United States via Hawaii, Whitehurst arrived at Seattle in company with Charles E. Brannon DE-446 on 17 July 1962. Subsequently decommissioned on 1 August 1962 and placed in Group II inservice status as a Naval Reserv Training ship, Whitehurst resumed operations out of Seattle. During 1963, the ship received two major changes in her configuration when her 40mm mounts and ship-to-shore power reels (the latter having enabled her to function as a floating power station) were removed.

Whitehurst, in subsequent years, visited San Diego, CA., Bellingham, Port Angeles, and Everett, WA., and Esquimalt, British Columbia. On 17 January 1965 while operating in the Strait of Juan De Fuca, and steaming in dense fog off the Vancover Narrows, Whitehurst collided with the Norwegian Freighter, SS Hoyanger. Both ships then ran aground in shallow water. The DE suffered a five foot gash in her stern above the water line while the freighter got off with three feet of scraped bow plates. The following day, both ships were pulled off by tugs.

Whitehurst operated locally out of Seattle and ranged as far south as San Francisco and San Diego into 1967. A highlight for the DE in 1966 was the visit of astronaut Cmdr. Richard F. Gordon, Jr., in November. The ship transported Gordon and his family to his home town of Bremerton on 18 November, before returning to her home port

Soon Whitehurst's home port was shifted to Portland, Oregon, from Seattle. The ship was to replace McGinty DE-365, which was being deactivated as part of an economy drive. However, Whitehurst's days were also numbered and she, too, was soon deactivated.
On 12 July 1969, the DE was taken out of service and struck from the Navy's list. She was eventually taken to sea and sunk as a target by Trigger SS-564 on 28 April 1971.


Call Signs of USS Whitehurst
Voice, Defy Zebra---Radio and Flag, Nan Tare Victor Dog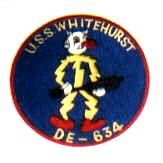 USS Whitehurst
19 November 1943 -- 28 April 1971