USS Whitehurst Logo by: Pat Stephens, Webmaster, DESA

New Bern Business Man Honors Ensign Whitehurst
and the USS Whitehurst Association
Tom Faulkenberry, Auctioneer and Owner of "Tom's Coin and Antiques" has presented the USS Whitehurst Assn. with a framed painting of Ensign Henry Purefoy Whitehurst, a citizen of New Bern, who gave his life as a young officer aboard the cruiser, USS Astoria, in August 1942. The painting was executed in 1943 from a 1938 photo of the young Midshipman. It is signed, on the back, by C. B. Foy who was also a citizen of New Bern.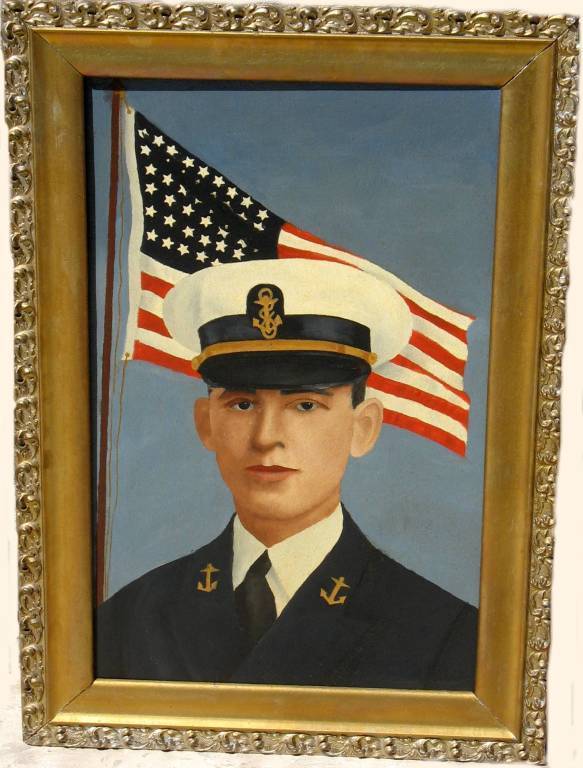 A brief history of Ensign Whitehurst's military career is penciled on the back of the painting. It reads as follows:
Henry Purefoy Whitehurst
Entered Annapolis 1938
Appointed Ensign 1941
Assigned to the ship Astoria
Served in 23 battles in the Pacific, Second World War
Killed in Astoria August 9, 1942
USS Whitehurst, named in his honor, launched Sept. 1943
The painting was a part of the Mary Carter Guion* Estate, which was auctioned by Mr. Faulkenberry. He purchased the painting himself for the express purpose of presenting it to the USS Whitehurst Association.
As yeoman of the USS Whitehurst Association, I speak for all its members, expressing our deep appreciation for this gift. It is an honor to display the painting at our reunions and to post the photo of it on this web site. max crow yeoman/webmaster
*Sister of Ensign Whitehurst
Mr. Faulkenberry's complete business address is:
Tom's Coin and Antiques
244 Middle St
New Bern, SC
tomscoinsantiques@embarqmail.com
WWII Era | Korea War & '50s | Viet Nam & 60s | Reunions | All Links Page | Search & Rescue
Memorial | Poetry | Enemy Below | Taps List | Photos/Armament | History | Crews Index | Home