Logo by: Pat Stephens, Webmaster, DESA

The Conti Log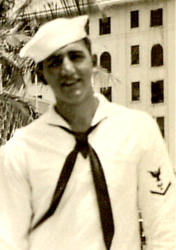 Pasquali Conti, 1945
Log kept by Pasquali A. "Charlie" Conti, in his own hand writing. It was copied into a MicroSoft
document by his grandson Anthony J. Leak. Charlie Conti listed is as a Fireman 3/c on the original
Watch Quarter and Station Bill set up by Ensign Syd Calish, the first Engineering officer on the
Whitehurst. The log seems to have been kept almost daily until June, 1944. There is one entry for
5 October '44 where it ends. We do not know why.
note: The spelling has been left as the hand writing was interpreted. m.c.
November 19, 1943
U.S.S. Whitehurst went into commission. Lieutenant Commander Grey took command.
Dec. 8, 1943
Started out of San Francisco for shake down cruise out around San Diego Calif. Sea very rough.
Dec. 12, 1943
Pulled into San Diego after being lost in hurricane for three days.
Jan. 5, 1944
Shake down completed under way for San Francisco
Jan. 29, 1944
Left San Francisco for Pearl Harbor
February 4, 1944
Arrived in Pearl Harbor Liberty for starboard section.
February 7, 1944
Left Pearl Harbor for the Marshall Islands
February 13, 1944
Arrived at Kawaljolien in the Marshall Islands. Left for Funa Futo in Ellia Islands.
Feb. 15, 1944
Crossed equator what a shellacking I took, but it was a lot of fun. I am now a full fledge shellback.
Feb 17, 1944
Arrived at Fuma Futi in Ellia Islands. Left for Guadalcanal.
Feb 22, 1944
Left Guadalcanal for Espirito Santo in the New Hiberdias.
Feb 26, 1944
Arrived in Espirito Santo.
March 3, 1944
Left Espirito Santo for Noumea New Caledonia
March 5, 1944
Arrived in New Caledonia
March 11, 1944
Left New Caledonia for Espirito Santo
March 12, 1944
Arrived in Espirito Santo
March 14, 1944
Left Espirito Santo for Malekula Bay
March 22, 1944
Left Malekula Bay to escort fleet tankers out to refuel fleet around Truk
March 27, 1944
We refueled ship at sea
March 29, 1944
Opened fire on Jap bomber.
April 1, 1944
Refueled ship again then started back to Espirito Santo
April 5, 1944
Arrived in Espirito Santo
April 6, 1944
Left Espirito Santo to escort transport to Milne Bay New Guinea
April 9, 1944
Arrived in Milne Bay
April 10, 1944
Left Milne Bay for Cape Sudest New Guinea
April 14, 1944
My birthday (Pasquale 'Charlie' Conti) 21 years old. Left Cape Sudest for Cape Creiton N.G.
April 14, 1944
Arrived at Cape Creiton. Left for Leador Harbor Admiralty Islands
April 17, 1944
Arrived Leador Harbor. Then left for Cape Creiton.
April 18, 1944
Arrived Cape Crieton, left for Cape Sudest
April 19, 1944
Arrived at Cape Sudest.
April 20, 1944
Left Cape Sudest for Cape Creiton
April 21, 1944
Arrived at Cape Creiton
April 25, 1944
Left Cape Creiton for Aitape N.G. to escort some (??? J.) This is the second landing on Aetape
May 1, 1944
Arrived at Aitape. Mission completed with no opposition. Left same night for Cape Sudest.
May 6, 1944
Left Cape Sudest for Saitor Bay, N.G.
May 7, 1944
Arrived at Saitor Bay, N.G.
May 10, 1944
Left Saitor Bay for Aitape
May 15, 1944
Left Aitape for Hollandia
May 16, 1944
Arrived at Hollandia
May 17, 1944
Left Hollandia for the invasion of Wadka Island
May 18, 1944
We arrived at Wadke. Landings were made 0500 many casualties. Left for Hollandia at 1900
May 19, 1944
We arrived at Hollandia. The next day we left for Aitape, and arrived there on the 21st.
May 22, 1944
We left Aitape for Hollandia. We arrived next day, fueled ship, and got underway for Wadke
May 24, 1944
Arrived at Wadke at 0600, and then left for Hollandia again at 1500
May 25, 1944
We arrived at Hollandia, and established patrol
May 26, 1944
Underway for the invasion of Biak in the Schouten Islands
May 28, 1944
We arrived at Biak at 0500. While screening a few LCI's we got in a little too close to the Japanese shore batteries, and they opened fire on us. One landed just ten feet from our ship. The destroyer U.S.S. Stockton came up where we were, and she got hit by a six inch shell which killed five men, and wounded seven. Then Jap planes appeared over head, and we all opened fire on them, and shooting several of them down. We left at 1600 for Hollandia, and arrived there on the 30th.
May 31, 1944
We left Hollandia for Cape Creiton, and arrived there June 3rd, and left there the same day for Cape Sudest. Arrived there same day. We laid in port for three days. Then left for Hollandia again.
June 10, 1944
We arrived at Hollandia fueled the ship again got underway for Wadke Island again. Arrived there next morning.
June 11, 1944
The captain said we would be anchored for about five hours, and that one section would be permitted to go ashore where the troops had just finished mopping up on the last remaining Japs in Wadke. While on the Island I saw quite a few dead Japs, and also all different kinds of Jap ammunition. There were several Jap airplanes that were shot down, also a few which were captured. We returned to the ship about 1600, and immediately got underway again to patrol.
On the night of June 12th, Jap planes appeared, and we went to our battle stations. Our night fighters went up after them, and made short work of them. We saw three of them fall into the sea, and burst into flames. The next day we returned to Hollandia. On the 14th we left Hollandia for Cape Sudest. We got there on the sixteenth and then were ordered to Guadalcanal for repairs for which our ship was badly in need of. Arrived at Guadalcanal on the 19th, and went alongside of U.S.S. Dixie a destroyer tender. We didn't do much, but got necessary repairs done on the ship until July 7, 1944 we left for Purvis Bay to practice runs on one of our submarines then returned into port that same night. We stayed in port until July 11th, and then left Guadalcanal for Treasury Island, and arrived there the next day. We got liberty on this island, and it was really a beautiful South Pacific Island. We got underway again on the 16th for Rendova New Georgia Islands, and then left there the next day for Espirito Santo on of our biggest bases in the South Pacific. Arrived there July 19th. We had our ship camouflaged, and then left there on the 23rd for Milne Bay New Guinea and got there on the 17th, and then were ordered back to Treasury Island. We arrived back at Treasury Island on the 28th of July.
During this time, and October we didn't do very much, but escort a few ships to New Guinea and laid in port. We went sometimes during the day to practice A.A. fire, and torpedo runs.
October 5, 1944
Left Hollandia for New Guinea for the invasion of Leyte in the central Philippines. We arrived in Leyte Gulf on the 19th. Landing already had been made successfully with little opposition, but our ships in the harbor met fierce airplane torpedo attacks.


WWII Era | Korea War & '50s | Viet Nam & 60s | Reunions | All Links Page Search & Rescue
Memorial | Poetry | Enemy Below | Taps List | Photos/Armament | History | Crews Index | Home