USS Whitehurst Logo by: Pat Stephens, Webmaster, DESA

1957 Cruise to Brisbane, Hong Kong, and Japan
By: Ken "AK" Baroa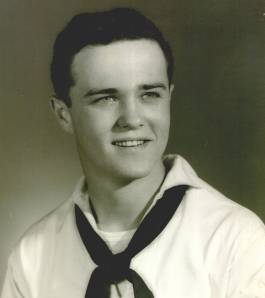 Ken Baroa RDSN, 1955
Ken boarded the Whitehurst in mid 1955 as RDSN and left the ship in 1958 as Radarman Second Class. Now retired in Fremont, CA, he is a performing musician who plays Tenor Sax and Clarinet in big bands and leads his own quartet. mc 2000
In my whole life, I will never forget this cruise. It was in January of '57, (summer in Australia). I was leading Radarman and the old man, Captain Smith, asked me if I would like to navigate the ship (with no help) from Pearl Harbor to American Samoa, then on to Brisbane, Australia. He asked me because he knew I loved to navigate, saying that they would take all of my directions unless there was a problem and that he would be available if I felt the need. Obviously either he or the O.D. would take the ship into port, and in the case of Brisbane, I just took her up to the mouth of the Brisbane River Channel where a pilot came aboard and took us to the SRF (Ship Repair Facilities). I stood no watches, technically, but spent most of my time in CIC, and had to take a fix at least every 4 hours.
Great experience! So good that I actually considered being a navigator for the Merchant Marines when I got out of the navy.
When we arrived in Brisbane, we were the FIRST U.S. Navy ship to visit that port since WWII and we were alone. When we pulled out, several American destroyers were pulling in. GREAT PLACE. The only bad thing on the cruise was: When we left Brisbane a Sonarman named Phillips missed the ship.
After leaving Australia, as I recall, we stopped at Manus Island for fuel, bypassed Guam and went straight to Hong Kong for a few weeks. En route we were in a violent typhoon which actually ripped a Mount 31 Ready Ammunition box off the main deck and carried it away. After this storm everything was "smooth sailing". From Hong Kong we steamed to Formosa (now Taiwan) for a day or two, then on to good old reliable, Yokosuka, Japan. If my memory is correct, we came back to Guam, and returned to Pearl Harbor.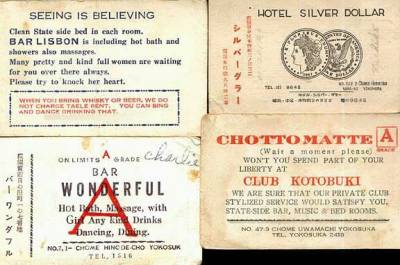 Souvenirs of the cruise
WWII Era | Korea War & '50s | Viet Nam & 60s | Reunions | All Links Page | Search & Rescue
Memorial | Poetry | Enemy Below | Taps List | Photos/Armament | History | Crews Index | Home