USS Whitehurst Logo by: Pat Stephens, Webmaster, DESA

USS WHITEHURST DE-634
WWII Veterans Reunion
2010
The 31st annual reunion of the WWII crew of the USS WHITEHURST DE-634 was held June 23-25, 2010 in Knoxville, TN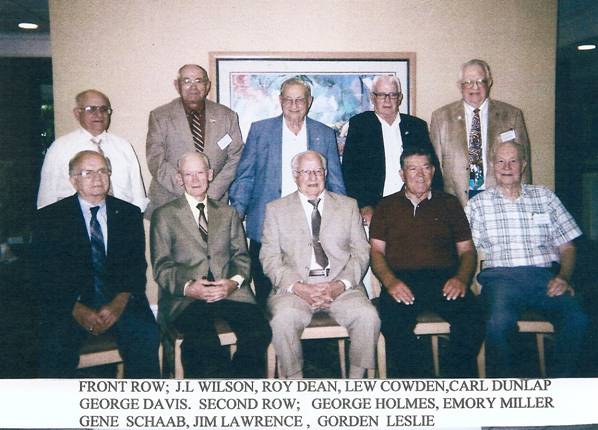 ....
Our pictures were taken by Ruth Graham, widow of our longtime crewmember Roy Graham.
Eight of the original WWII crew were in attendance including Emory Miller, Gene Schaab, Gordon Leslie,
J. L. Wilson, Roy Dean, Lew Cowden, Carl Dunlap, and George Davis. Also in attendance were two former crewmembers who served aboard the ship at later dates. George Holmes and Jim Lawrence (Retired Navy Chief Legalman). We had a grand total of approximately 30 attendees which included wives, girl friends, children and grandchildren.
Present at this reunion for the first time was Mrs. Norma Kaske and her husband, all the way from Washington state. Mrs. Kaske is the daughter of Gunner's Mate First Class Norman Ellsworth who was killed during the Japanese attack on the ship April 12, 1945.
We had our annual fund raising auction on June 25th, which was quite successful.
We had a wonderful catered banquet and were treated again to the great sounds of Jerry Pierce and his "Night Life" band who have played for us annually for over 20 years now. As she has for many years in the past, Gordon Leslie's daughter, Patricia, rendered beautiful solos of "Another Soldier's Coming Home" and "The Lord's Prayer". We also voted to send a $500 donation to the USS SLATER Endowment Fund in Albany, NY.
The reunion was wonderful as usual. A great time was had by all. We have already planned next year's reunion for June 22-24, 2011 here in Knoxville, TN.
JAMES LAWRENCE 120 Ryan Dr., Goose Creek, SC
WWII Era Korea War & '50s Viet Nam & 60s Reunions All Links Page Search & Rescue
Memorial Poetry Enemy Below Taps List Photos/Armament History Crews Index Home