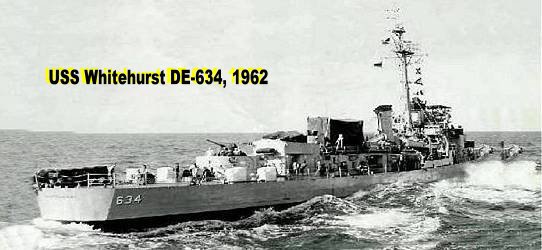 Whitehurst Vet is Attacked by Warthogs
(A Whitehurst Vet's Experience with the A-10 Thunderbolt)
By Tim Dorgan SM2 of the Late Crew


Tim Dorgan in 1962 and in more recent times.
In 1986 I was given a promotion while working for the Postal Service to Transportation Supervisor, my new territory was the state of Alaska, I was responsible for the transportation of all of the mail within and out of Alaska whether by land, sea or air. It was a wonderful job and had a great deal of travel involved with it, in the seven years I held that position I logged over 350,000 miles in the air within Alaska alone.
There are a great many military bases in Alaska and I visited a lot of them. I was surprised to learn that most of them were not shown on maps. I would meet with the officer in charge of mail services at each base and always asked them what I could to improve the flow of mail into and out of the base. I always enjoyed meeting with the military personnel because they were always polite and appreciative of whatever I could do for them.
One of my more memorable trips was to Eielson Air Force Base in 1988. I would take a member of the Alaska District Office with me on most of these visits, in this case it was a gentleman by the name of Bob and we flew up to Fairbanks. We acquired a vehicle from the Fairbanks Post Office and one of the Fairbanks Logistics staff members and headed south for Delta Junction. We stopped at North Pole, yes it's south of Fairbanks and then stopped at Eielson Air Force Base. We met with a Captain who was the Postal Officer and while talking to him his phone rang. He said the Colonel would like to meet us so we went to his office.
I explained what our visit was for and outlined the changes I had planned to improve mail service for the Air Base, the Colonel was very appreciative. He then asked if we were headed back to Fairbanks, I said we were heading to Delta Junction first. He said he had a new squadron of Aircraft, A-10 Thunderbolts, and they were a ground attack aircraft. He said they would be flying in the area and wondered if we would mind being ground targets to help them calibrate their radar and attack approaches. I told him we thought that would be great, and then we departed and headed south towards Delta Junction.
We hadn't gone too many miles when two A-10's flew passed us off to our right, they were about a 100 yards away and about 100 feet above the ground.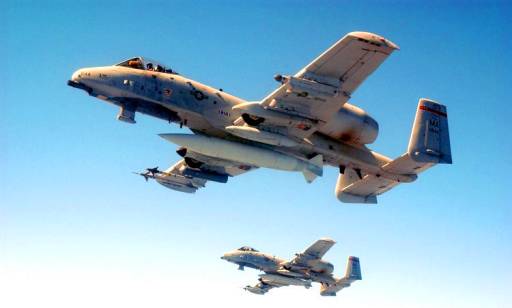 A-10 Thunderbolts, These Air Force planes are affectionately known as "Warthogs"
They crossed in front of us and passed down our left side at about the same distance and altitude. They crossed behind us and passed us on the right side again. In a matter of seconds they were out of sight, we thought they were through with us. About a mile or so ahead of was a hill, the highway was straight at this point and we were driving at a steady 55 mph, the speed limit.
When we crested the hill we were looking right into the face of the two A-10's.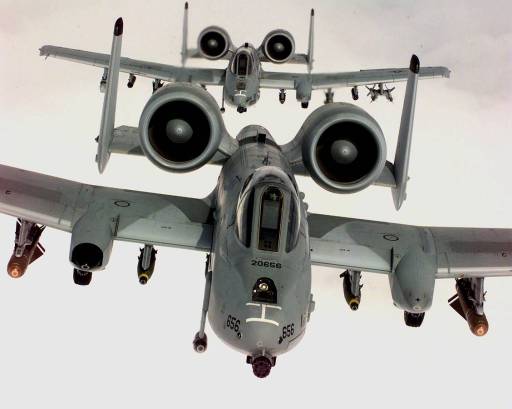 If we had been in a convertible and stood up I swear I could have touched them. I don't know about the others but I ducked, and I am pretty sure I heard screams and some language which I'm not sure I could understand. I didn't check for wet spots but it wouldn't have surprised me if there were some...

As the Warthogs screamed over us I got a real good look at that gun mounted in the nose, it is big close up.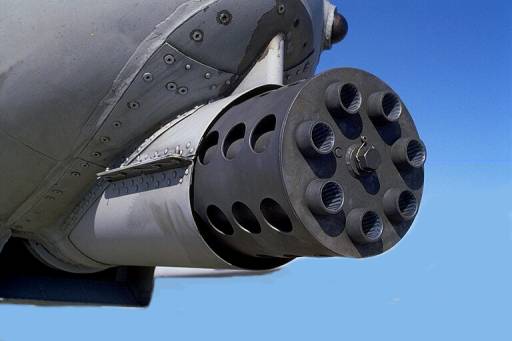 They passed over us did a loop and overtook us from behind at very close range.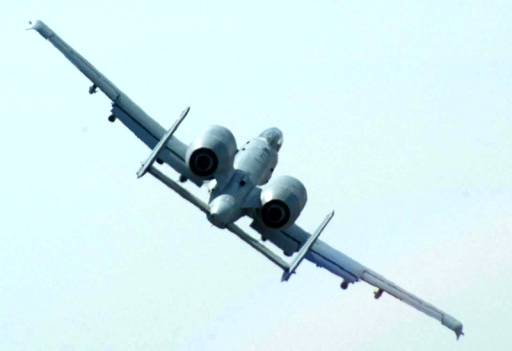 They made a couple of passes over us from each side before they departed. All three of us were real excited about the demonstration of these aircraft.
The Colonel had given me one of his cards so when I got back to Anchorage I wrote him a letter telling him he could be very proud of his A-10 pilots, they impressed us very much with their flying abilities.
WWII Era | Korea War & '50s | Viet Nam & 60s | Reunions | All Links Page | Search & Rescue
Memorial | Poetry | Enemy Below | Taps List | Photos/Armament | History | Crews Index | Home